De Ligt discusses possible next moves after Ajax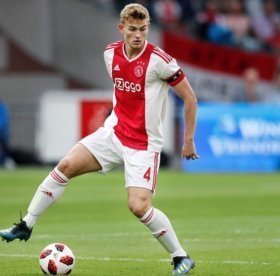 Both Barcelona and Manchester United are looking to sign Matthias De Ligt at the end of this season and are confident a deal can be agreed with Ajax. However, De Ligt appears to be undecided on his preferred next location, but in an interview the centre-back has revealed the factors that are likely to influence his decision.


The 19-year-old is seen as one of Europe's best young players and is valued by his club at around 40 million euros.

De Ligt told reporters: "I look at what I think is the best for my career, where I can develop the best, where I can make the most playing minutes. On that I base my choice.

"Where do I see myself? Well obviously the Premier League is a big competition, Spain also, but you have other competitions, it's not just about those two.

"I still don't know anything about where my future is, so I'll see how it goes. First we have to play two games and after that I will see what happens next.

"Of course there is some interest from clubs, but I don't want to say some names who are interested.

"But what I will say is I am now focused on the national team and after the national team I will see what the future brings."