A newfound star in Norwegian football - Erling Haaland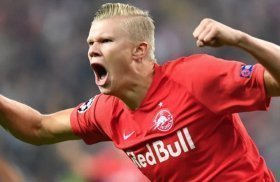 Ruben Gabrielsen

had some choice words to describe a rising star in the Norwegian football scene - Erling Braut Haaland. A young forward that continues to take football by storm. 
"The first time he came to Molde, I didn't think he was the whole world, but suddenly he developed in a way I've never seen before. After that, he has not looked back. He is much stronger than he looks, much faster than he looks. He is a beast."

Haaland is a 19-year-old player who recently left Scandinavia for Europe and has since been achieving success upon success. He took Europe by storm managing to surprise even the most avid of followers. In his debut match at the Champions League for Salzburg, he managed to score a hat-trick. This feat was last achieved by Wayne Rooney for Manchester United back in 2004. Haaland scored the first goal in under two minutes. The second one followed soon with a left-foot finish. It took him just over half an hour to complete the hat-trick.

The 19-year old managed to score 17 goals in only ten games during his season in Austria. He had already collected three hat-tricks under his belt before the one he scored at the Champions League. "His goalscoring run is incredible. I'm so happy he scored three today. People said: 'Okay he's scoring for fun in the league, but wait until he comes to the big stage'. Then he goes and scores another hat-trick," - commented Haaland's teammate, Zlatko Junozović.

While Europe is starting to wake up to the power brought by the young Norwegian player, he has fans in his homeland as well. Norwegians are particularly avid followers of football. The country likes to express this enthusiasm on sports betting websites. There are many such providers in the country and Haaland's success might draw even more enthusiasts to their platforms.

It didn't always look like the son of Alfie Inge Haaland, a player associated for many with an infamous foul would make it in the sport. He held 16 matches in Norway's second division club Bryne without scoring any goals. He then moved on to a trial with Germany's Hoffenheim, which didn't turn out well either. However, after being transferred to Eliteserien side Molde, Haaland began to transform into the powerhouse he is now seen as. Although he only managed to score four times during the first 20 games, the second season went much better. He added eight more goals to his count and ended the season with 16 goals in total. 

When he was playing for Molde, he was also scouted by some elite European clubs. However, the young footballer turned out to be unwavering in his determination. After refusing offers from giants like Juventus and Bayer Leverkusen, Håland instead chose to go for the Red Bull Salzburg. He found the smaller team to be better for him at that particular point in life. "I was obviously flattered by Juventus being interested, but I thought that it was too early to go there. Salzburg was the club that suited me the best and they were the ones who wanted me the most. There is more of a chance of playing here," - he commented on his decision.

Eventually, Haaland seems to be aiming for the Premier League. After all, he was born in the UK, where his father played at that time for Leeds. Haaland Junior has even said to media that he wants to win a title with this particular club. With his undisputed ability to score and his agility on the field, no goal seems to be beyond reach for the young player. He constantly proves this. A few months ago, Håland managed to score nine goals in a single game for Norway against Honduras. With his ability and talent, it is not likely that the hat trick on the Champions League debut will be the last feat achieved by the 19-year-old.