Frank Lampard admits challenge after Chelsea's transfer ban is lifted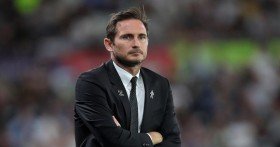 Chelsea manager

Frank Lampard

has accepted that he has a challenge on his hands after the club's transfer ban was lifted by the Court of Arbitration for Sport.
The Blues were restricted from making any signings due to their transfer embargo during the summer but they have been able to successfully appeal to reduce the punishment by a half.

Speaking in a press conference, Lampard acknowledged that it was tough for him during the summer as he could not recruit any new players after joining the side.

He added that the Blues face a challenge hereafter, considering they need to make the right moves in the transfer market to improve the strength of the current squad.

"Personally what affected me in the summer with the transfer ban, when you come into the club or when you want to go a certain way, sometimes the players you bring in and the attributes they have are key to that. It will be a challenge, yes," he said.

Chelsea are presently fourth in the league standings with a six-point advantage over Wolves, who are behind them. They are set to face Everton on the road this afternoon.