Aubameyang responds to exit rumours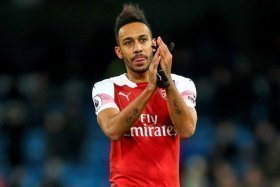 Gabonese striker

Pierre-Emerick Aubameyang

has opened up for the first time on rumours that he will be departing North London in the January transfer window for a new challenge. It is understood that Real Madrid and Sevilla are in the race to sign the talented striker, and that the forward himself is ready to depart the Emirates Stadium for a move to Spain.
Odds that the player will leave this summer have shortened considerably over the past month, with the betting community seemingly deciding that Aubameyang is likely to leave the club in search of a new transfer. If you would like to find the most recent odds for Aubameyang's departure and other gambling games, there are options out there on the web.

Aubameyang has had a lengthy spell previously with Borussia Dortmund before making a move to England, and is said to be ready for a new opportunity despite being named the captain of the club.

When asked about rumours that he would be departing the club in the summer, Aubameyang responded: "They talk too much and it does my head in! I am the Arsenal captain. I love this club. I am committed to it and desperate to bring it back to the top, where it belongs."

Aubameyang is heading in to the final 12 months of his contract at the club, and it is understood that he isn't willing to sign a fresh contract, thus the rumour mills kicking in to full motion.

"For now, I'm here. I'm 100 per cent here," he told RMC Sport.

"As soon as he (Mikel Arteta) got here, he put things on the table. He made it clear what he expected from us and that it was non-negotiable.

"Everyone has got to work. Everyone wanted to make an effort because we have pride there too. We wanted to regain the taste for victory and please our supporters."

Interestingly, Aubameyang's brother commented on social media about Mikel Arteta's arrival and hinted that the move was a bad one by the club as they replaced Unai Emery.

Aubameyang insists that "people keep making up stories" when suggesting that he would be departing in the summer.

Mikel Arteta has arrived with plans to rebuild his squad for new players, with his top priority being a defender, and it understood that William Saliba's arrival to North London could be fast tracked.

With the transfer window opening shortly, there are set to be a number of rumours circulating over the coming days and it is certain that a number of gamblers will consider a bet to see if Aubameyang's future will be elsewhere.

Aubameyang has made it clear that he plans to stay put, while some other big names are being tipped for some unusual destinations from Arsenal. It is understood that Mesut Ozil is also being considered as a possible departure, meanwhile there remains question marks over the future of Shkodran Mustafi and Granit Xhaka in the January transfer window, both of whom could be sacrificed for new players. Mikel Arteta has made it clear that his top priority will be to sign a new defender to replace the injured Callum Chambers.

Aubameyang, who is earning approximately 180,000 GBP per week, is possibly going to double his salary if he makes the move to Spain with Real Madrid. There is talk of a three year contract for the Gabonese.