Corluka happy with season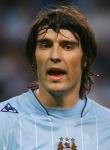 Amidst all the drama at the City of Manchester Stadium this year, Croatian defender

Vedran Corluka

believes his first season with Man City has been successful, despite the rattlings between

Thaksin Shinawatra

and Sven Goran Eriksson.
"I think we've done well this season and when you compare it to last season you can see the big difference," said the attack-minded Croatia defender.

"This year I've learnt lots from the matches in England and I can learn for next year and I think I will be better next season.

"I've enjoyed it very much because it was my first season in England and it has been something new for me.

"I think for a first season it was good and I'm happy that I chose this Club.

"Now I just want to show everybody that I deserve to be here in England and the best league in the world."