Relegation - Counting the cost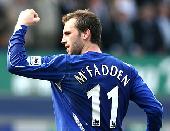 The Premier League comes to a conclusion on Sunday, and not only is the title race to be decided, but the relegation scrap will also come to a head. The potential losses involved in relegation are the root cause of nightmares for all chairmen at that end of the table.
It is believed that relegation to The Championship costs clubs roughly £30m in the difference in revenue over the following season. Parachute payments in the region of £11m a year for two years will help to soften the blow, however they are not a garentee for success. Crystal Palace, Wolves, Leicester, Leeds, Charlton and Norwich are all yet to bounce back, despite the hefty fees presented to them.

What about the playing staff? As always, relegated clubs are sure to see an exodus of their top stars. Let's see who will jump ship if their club is relegated:

If Birmingham go down, James McFadden (above) is unlikely to hang about. They could also expect to wave goodbye to Kapo, De Ridder and in demand midfielder, Wilson Palacios. They would also be unable to hang-on to on-loan Argentine starlet, Mauro Zarate.

If Reading fall through the trap door, then you'd expect the Stephen Hunt to Sunderland link to resurface. Defenders Andre Bikey and Nicky Shorey will feel that they need to stay in the top flight, and you can probably expect two from Leroy Lita, Dave Kitson and Kevin Doyle to be snapped up, possibly by lower mid table clubs like Middlesbrough or even some of the new boys. Reading's squad does have something of a Championship feel to it though, so maybe less would go than you would first think.

Presuming Reading don't close the 11 goal gap between themselves and Bolton, that only leaves Fulham. Keeper Antti Niemi would probably go (he has previous, having left Southampton following their demise), and Kasey Keller has said he may leave even if they stay up, in search of regular football, and Dejan Stefanovic will do the same. Moritz Volz, Paul Stalteri, Paul Konchesky, Alexei Smertin, Clinton Drew Dempsey and Eddie Johnson could also look elsewhere. Jimmy Bullard is being lined up by Aston Villa as a potential replacement for Gareth Barry (if he were to leave). Finally, Brian McBride, who may well have kept Fulham out of this relegation scrap were it not for a nasty injury, is leaving his decision until after the season finishes. He may well head back to the states and former side Columbus Crew, but he insists that is not dependant on the outcome of the last game.