Eriksson appointed as Mexico coach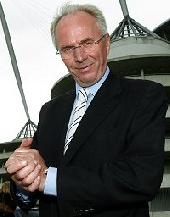 Sven-Goran Eriksson

has been named as the new Mexico coach. He was sacked by Manchester City on Monday.
Eriksson is appointed as the new Mexican coach and an official announcement has been made by the Mexican Football Federation president Justino Compean.

He will replace Hugo Sanchez, who was sacked in March for failing to guide the under-23 side to the Olympics.

Eriksson said that his goal will be the 2010 World Cup. Mexico has never gone beyond the quarter-final in the world cup.

"Our goal is [to qualify for] the 2010 World Cup and try to do it better than in the past."

"I want to thank the Mexican Football Federation for their confidence and support."

Although he has support from the committee of the owners of 18 top clubs who unanimously approved him to be coach, the players are not convinced if a European coach should take charge.