Frei: Switzerland can qualify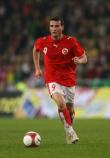 Switzerland's crocked striker Alexander Frei believes that his nation can still qualify for the second round of Euro 2008; despite slumping to a 1-0 defeat to Czech Republic in their first game of the tournament.
Frei said: "Our dream has to live on. We have to try everything on Wednesday.

"Sometimes you fall down, but then you can fight or stay down. Champions always get up again.

"I know that the team has a dream, mine was destroyed on Saturday, but the team's dream lives on even after the defeat against Czech Republic."