Hiddink praises Russia side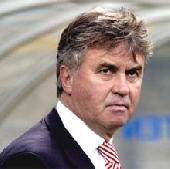 Russia boss

Guus Hiddink

praised his battling side after a victory over Spain earned his players a match up against homeland Holland in the Euro 2008 quarter finals.
"I am especially very proud of the team," he said after a 2-0 victory over Sweden had set up a meeting with his native Netherlands in the European Championship quarterfinal.

"It's the progress we have made in a few days with this team and the performance tonight. They played modern football. They tried to get forward as quickly as possible to get the goal they achieved in the first half. In the second half, they tried to push a little bit more. The only criticism you can make is they that didn't score enough from the opportunities they we got.

"It's a special game, I know the players, I know the coach...so it's special. It will be an exciting clash.

"It is very difficult for our team, it may be our problem that we have two days to prepare. We don't have 23 players who can replace each other."