Dave Kitson rejected others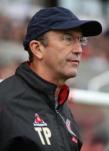 New Stoke City signing David Kitson has revealed that he rejected several other clubs as he quit Reading for Stoke. Kitson feels the challenge of battling for survival is an appeal for him.
Kitson, 28, said: "I personally like the attraction of playing for a club that's up against it.

"I could have gone elsewhere and sat on somebody's bench and been a Premier League footballer for the length of that contract.

"But that isn't why I became a footballer.

"I became a footballer to play at the highest level, which is the Premier League.

"And Stoke are offering me 38 games of that - that's why I'm here."