Laudrup hints at Spartak move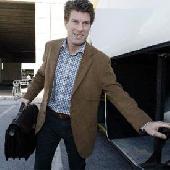 Danish coach

Michael Laudrup

has admitted that a move to Russia to coach Spartak Moscow is an option for him. Laudrup has been out of work since quitting Getafe last year, and West Ham have been linked with the coach.
"I cannot say that everything is settled," he told Sport Express.

"The final decision I will make in the next few days.

"But the chances are quite high, though I prefer to wait until all matters are settled.

"The first issue is football itself, it is important to understand what the team have and want.

"Secondly, there are some questions that are important to my family. What will the life be in Russia? Will it be comfortable for my wife, what school will my daughter attend?

"About Spartak I know that it is the biggest and most popular club in Russia as Real Madrid or Barcelona in Spain. I also know that for the last several years they haven't won as much as their supporters wish.

"Of course they want to regain lost positions. Supporters demand the Spartak play to be attacking and entertaining and I am used to such an approach and quite understand them."