"Arshavin deal almost done" Wenger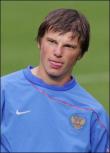 The Gunners boss has hinted that Arsenal is one step away from bringing the flamboyant Arshavin to London.
Arsene Wenger has stated that his club is on the verge of signing midfielder Andrei Arshavin. The deal, if done, will cost the Gunners £15m for the Russian ace.

The transfer window shuts down on Monday and Wenger should act quickly to get his signature on the contract papers. Zenit St Petersburg has reportedly agreed on the transfer fee and the only roadblock is the huge wage demands of the Euro 2008 super star.

Wenger is known for his tight wage control and if Arshavin is not happy with the offered wage he might stay in Zenit or move to other interested clubs like Juventus or Real Madrid.

Wenger says that the job is difficult when the transfer deadline is near as there would be no time to do anything if the player changes his

mind. Wenger admitted that although "90 percent" has been completed, the "final 10 percent of any deal can be the most difficult."