Fulham want Greening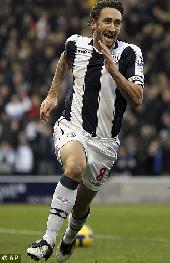 Fulham boss

Roy Hodgson

has made official enquiry on the availability of Jonathan Greening and had offered £2.5m plus a player in exchange. West Brom has issued hands-off warning to Hodgson.
The Cottagers' have been pursuing West Brom captain Jonathan Greening for a while, and has had two enquiries and an official offer of £2.5m plus Hameur Bouazza in a part-exchange deal. The Baggies chairman Jeremy Peace slammed Fulham and dismissed the offer.

"Jonathan is our captain and a vital member of the squad. So, there is no second thought. We want to keep all of our best players as we strive to gain promotion back to the Premier League. We are under no financial pressure to sell anyone."

Greening has one year left in his contract on his current deal, West Brom has already offered a new four-year contract.