Comolli hints at Liverpool spend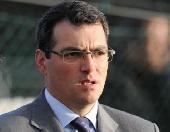 Liverpool director of football

Damien Comolli

has hinted that his club could well find themselves busy in the January transfer window. The Reds reportedly have 25 million GBP to spend on new players.
"My feeling about it is that in this economic recession there are so many clubs that are in trouble abroad, more than in England," he said.

"These clubs are under enormous pressure to sell. So this January window could be a very different window from what we have seen previously.

"Players that we would never have thought would be available could be. So that's why we are working away, thinking that if there is the right opportunity we should do it. Strange things could happen."