McLeish: Aston Villa recommendation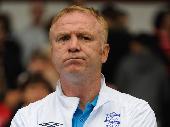 Sir

Alex Ferguson

advised

Alex McLeish

to take the vacant Aston Villa job. According to the Scot, Ferguson told the former Birmingham coach to leave St Andrews and head for Villa Park.
McLeish said: "I'll be under pressure right away and the bottom line is I'll need to get results.

"But no one has said I am barmy for taking the job. I have asked that question of my friends but they've all said 'you have to take it'.

"Sir Alex came out and said I should go for it. He told me 'this is a big one, a real big club'. I thought to myself, 'that's an endorsement'. My message to the fans would be 'let me prove myself and I'll win you over'.

"It is not a case of proving them wrong.

"I want to go forward with the Villa fans and I want to prove to them I am the man for this job. I am sure a few people wanted to punch me but I have taken a lot of heart despite the furore over the last couple of days.

"Hopefully I will look back on it with affection."