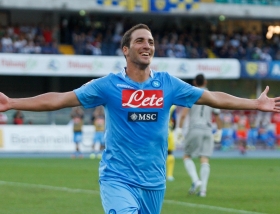 Both Arsenal and Manchester United are in the race to sign Argentinian international striker Gonzalo Higuain. The Gunners very nearly completed a deal for the 27-year-old two seasons ago, but the forward decided to join Napoli instead.
- read news story
Aston Villa manager Tim Sherwood confirmed that he is planning to sit down with star striker Christian Benteke and discuss a new contract. The Belgian forward has just 18 months left on his current deal.
-
read news story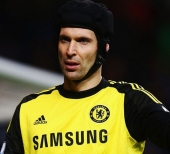 Liverpool manager Brendan Rodgers has been locked in high level talks with his club's directors regarding a summer loan move for Petr Cech. The Chelsea number 2 is looking for a move this summer.
-
read news story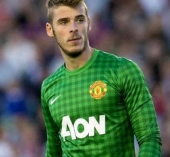 Manchester United could lose one of their best players to Real Madrid this summer, according to a report.
-
read news story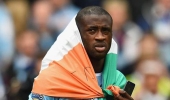 Manchester City star Yaya Toure is reportedly unwilling to take a pay-cut to leave the Etihad this summer.
-
read news story
Chelsea
31
73
Arsenal
32
66
Man Utd
32
65
Man City
32
61
Liverpool
32
57
Southampton
32
56
Tottenham
32
54
Swansea
32
47
West Ham
32
43
Stoke
32
43
Crystal Palace
32
42
Everton
32
38
Newcastle
32
35
West Brom
32
33
Aston Villa
33
32
Sunderland
32
29
Hull
32
28
QPR
33
26
Burnley
32
26
Leicester
31
25
| | | |
| --- | --- | --- |
| Barcelona | 31 | 75 |
| Real Madrid | 31 | 73 |
| Atl Madrid | 31 | 66 |
| Valencia | 31 | 65 |
| Sevilla | 31 | 62 |
| Villarreal | 31 | 51 |
| Málaga | 31 | 46 |
| Espanyol | 32 | 42 |
| Ath Bilbao | 31 | 40 |
| Celta de Vigo | 31 | 39 |
| Real Sociedad | 31 | 38 |
| Rayo Vallecano | 31 | 38 |
| Getafe | 31 | 36 |
| Eibar | 31 | 31 |
| Elche | 31 | 31 |
| Levante | 32 | 29 |
| Almería | 31 | 28 |
| Deportivo de La Coruña | 31 | 28 |
| Granada CF | 31 | 24 |
| Córdoba | 31 | 19 |
| | | |
| --- | --- | --- |
| Juventus | 30 | 70 |
| Lazio | 30 | 58 |
| Roma | 30 | 57 |
| Napoli | 30 | 50 |
| Fiorentina | 30 | 49 |
| Sampdoria | 30 | 49 |
| Genoa | 30 | 44 |
| Torino | 30 | 43 |
| Milan | 30 | 42 |
| Inter Milan | 30 | 41 |
| Palermo | 30 | 38 |
| Sassuolo | 30 | 35 |
| Chievo | 30 | 35 |
| Udinese | 30 | 34 |
| Empoli | 30 | 33 |
| Verona | 30 | 33 |
| Atalanta | 30 | 29 |
| Cesena | 30 | 22 |
| Cagliari | 30 | 21 |
| Parma | 30 | 12 |
| | | |
| --- | --- | --- |
| Bayern Mun | 28 | 70 |
| VfL Wolfsburg | 28 | 60 |
| Borussia Mönchengladbach | 29 | 54 |
| Bayer Levkn | 28 | 51 |
| Schalke | 28 | 41 |
| FC Augsburg | 28 | 39 |
| TSG 1899 Hoffenheim | 28 | 37 |
| Eintracht Frankfurt | 29 | 36 |
| SV Werder Bremen | 28 | 35 |
| Bor Dortmd | 28 | 33 |
| 1. FC Köln | 28 | 33 |
| Hertha BSC | 28 | 33 |
| 1. FSV Mainz 05 | 28 | 31 |
| Sport-Club Freiburg | 28 | 29 |
| Hannover 96 | 28 | 29 |
| SC Paderborn 07 | 28 | 27 |
| VfB Stuttgart | 28 | 26 |
| Hamburger SV | 28 | 25 |
| | | |
| --- | --- | --- |
| Lyon | 32 | 64 |
| Paris St G | 31 | 62 |
| Monaco | 32 | 58 |
| Marseille | 33 | 57 |
| St Etienne | 32 | 56 |
| Bordeaux | 32 | 54 |
| Montpellier | 32 | 49 |
| Lille | 32 | 47 |
| Rennes | 32 | 45 |
| Nantes | 33 | 43 |
| Nice | 32 | 41 |
| Guingamp | 32 | 39 |
| Caen | 32 | 38 |
| Bastia | 32 | 37 |
| Evian Thonon Gaillard | 32 | 36 |
| Lorient | 32 | 35 |
| Reims | 32 | 35 |
| Toulouse | 32 | 35 |
| Metz | 31 | 26 |
| Lens | 32 | 26 |