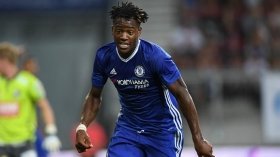 West Ham United will reportedly tempt Chelsea to loan out Michy Batshuayi following his struggles to attain regular playing time at Stamford Bridge this season.
- read news story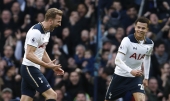 Tottenham Hotspur continued to chase down Chelsea for the Premier League title on Sunday, and at the same time guaranteed that they would finish above bitter North London rivals Arsenal for the first time in over twenty years. 
-
read news story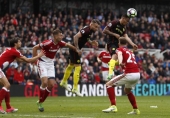 Brazilian sensation Gabriel Jesus scored late on at the Riverside to rescue Manchester City a point, and deny Middlesbrough a victory that they desperately needed, in their attempt to remain in the Premier League. 
-
read news story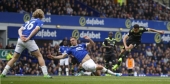 As the Premier League nears it's conclusion, Chelsea know that the fate of the Premier League is in their hands, keep winning and the trophy will be on it's way to Stamford Bridge. On Sunday, they took on an Everton side that had an outside chance of qualifying for the Champions League.
-
read news story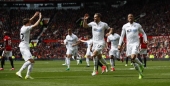 Sunday's early kick off saw Manchester United host Swansea City at Old Trafford, with both teams needing three points to attain very different goals. The Red Devils were looking for three points to improve their chances of Champions League football, whereas Swansea were desperate for a win to just stay in the Premier League. 
-
read news story
| | | |
| --- | --- | --- |
| Chelsea | 33 | 78 |
| Tottenham | 33 | 74 |
| Liverpool | 34 | 66 |
| Man City | 33 | 65 |
| Man Utd | 33 | 64 |
| Arsenal | 32 | 60 |
| Everton | 34 | 58 |
| West Brom | 34 | 44 |
| Southampton | 33 | 41 |
| Bournemouth | 35 | 41 |
| Leicester | 34 | 40 |
| Stoke | 35 | 40 |
| Watford | 33 | 40 |
| Burnley | 35 | 39 |
| West Ham | 35 | 39 |
| Crystal Palace | 35 | 38 |
| Hull | 35 | 34 |
| Swansea | 34 | 31 |
| Middlesbrough | 34 | 27 |
| Sunderland | 34 | 21 |
| | | |
| --- | --- | --- |
| Barcelona | 35 | 81 |
| Real Madrid | 34 | 81 |
| Atl Madrid | 35 | 71 |
| Sevilla | 34 | 68 |
| Villarreal | 35 | 63 |
| Real Sociedad | 35 | 61 |
| Ath Bilbao | 34 | 59 |
| Eibar | 34 | 51 |
| Espanyol | 35 | 50 |
| Alavés | 34 | 45 |
| Celta Vigo | 33 | 44 |
| Valencia | 35 | 40 |
| Malaga | 34 | 39 |
| Las Palmas | 35 | 39 |
| Real Betis | 34 | 37 |
| Deportivo La Coruña | 34 | 31 |
| Leganés | 34 | 30 |
| Sporting Gijón | 35 | 24 |
| Granada | 35 | 20 |
| Osasuna | 34 | 18 |
| | | |
| --- | --- | --- |
| Juventus | 34 | 84 |
| Roma | 33 | 75 |
| Napoli | 33 | 71 |
| Lazio | 33 | 64 |
| Atalanta | 34 | 64 |
| Milan | 33 | 58 |
| Inter Milan | 33 | 56 |
| Fiorentina | 33 | 55 |
| Torino | 34 | 49 |
| Sampdoria | 34 | 46 |
| Udinese | 33 | 43 |
| Cagliari | 33 | 38 |
| Chievo | 33 | 38 |
| Sassuolo | 33 | 36 |
| Bologna | 33 | 35 |
| Genoa | 33 | 30 |
| Empoli | 33 | 29 |
| Crotone | 33 | 24 |
| Palermo | 33 | 16 |
| Pescara | 33 | 14 |
| | | |
| --- | --- | --- |
| Bayern Mun | 31 | 73 |
| RB Leipzig | 31 | 63 |
| Bor Dortmd | 31 | 57 |
| TSG Hoffenheim | 30 | 55 |
| Hertha BSC | 31 | 46 |
| Werder Bremen | 31 | 45 |
| SC Freiburg | 31 | 44 |
| 1. FC Köln | 31 | 42 |
| B Gladbach | 31 | 42 |
| Schalke | 31 | 41 |
| Eintracht Frankfurt | 30 | 41 |
| Bayer Levkn | 31 | 36 |
| Mainz 05 | 31 | 33 |
| VfL Wolfsburg | 31 | 33 |
| Hamburger SV | 30 | 33 |
| FC Augsburg | 30 | 32 |
| FC Ingolstadt | 31 | 29 |
| Darmstadt 98 | 31 | 24 |
| | | |
| --- | --- | --- |
| Monaco | 34 | 83 |
| Paris St G | 34 | 80 |
| Nice | 34 | 74 |
| Lyon | 34 | 57 |
| Bordeaux | 34 | 55 |
| Marseille | 34 | 52 |
| Saint-Étienne | 34 | 49 |
| Nantes | 35 | 48 |
| Rennes | 35 | 44 |
| Guingamp | 35 | 44 |
| Lille | 35 | 43 |
| Toulouse | 35 | 42 |
| Montpellier | 35 | 39 |
| Angers | 35 | 39 |
| Metz | 35 | 39 |
| Lorient | 35 | 34 |
| Caen | 34 | 33 |
| Dijon | 34 | 32 |
| Nancy | 35 | 32 |
| Bastia | 34 | 31 |