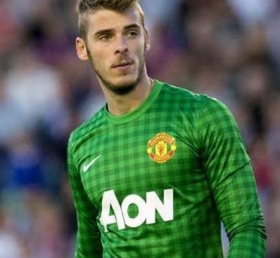 It has been football's worst kept secret since it was almost completed two years ago, but it appears that Manchester United and Real Madrid have finally come to an agreement over the transfer of Spain goalkeeper David de Gea.
- read news story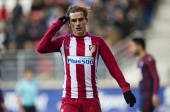 There has been yet another twist in the Antoine Griezmann transfer saga as Barcelona emerge as the newest club to register their interest in the Frenchman.
-
read news story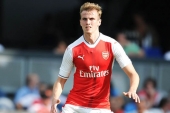 Rob Holding was close to leaving Arsenal in January after a lack of playing time, but Arsene Wenger convinced him to stay.
-
read news story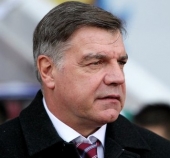 Crystal Palace manager Sam Allardyce has shocked the club by announcing that he wants to leave his role, just six months into his two and a half year contract.
-
read news story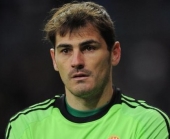 Iker Casillas has won it all during his illustrious career and could now be set to move to the English Premier League. The Spanish goalkeeper has failed to win a major trophy during his two seasons in Portugal with Porto, and may now move to England in an attempt to end his career with one last piece of silverware.
-
read news story
| | | |
| --- | --- | --- |
| Chelsea | 38 | 93 |
| Tottenham | 38 | 86 |
| Man City | 38 | 78 |
| Liverpool | 38 | 76 |
| Arsenal | 38 | 75 |
| Man Utd | 38 | 69 |
| Everton | 38 | 61 |
| Southampton | 38 | 46 |
| Bournemouth | 38 | 46 |
| West Brom | 38 | 45 |
| West Ham | 38 | 45 |
| Leicester | 38 | 44 |
| Stoke | 38 | 44 |
| Crystal Palace | 38 | 41 |
| Swansea | 38 | 41 |
| Burnley | 38 | 40 |
| Watford | 38 | 40 |
| Hull | 38 | 34 |
| Middlesbrough | 38 | 28 |
| Sunderland | 38 | 24 |
| | | |
| --- | --- | --- |
| Real Madrid | 38 | 93 |
| Barcelona | 38 | 90 |
| Atl Madrid | 38 | 78 |
| Sevilla | 38 | 72 |
| Villarreal | 38 | 67 |
| Real Sociedad | 38 | 64 |
| Ath Bilbao | 38 | 63 |
| Espanyol | 38 | 56 |
| Alavés | 38 | 55 |
| Eibar | 38 | 54 |
| Malaga | 38 | 46 |
| Valencia | 38 | 46 |
| Celta Vigo | 38 | 45 |
| Las Palmas | 38 | 39 |
| Real Betis | 38 | 39 |
| Deportivo La Coruña | 38 | 36 |
| Leganés | 38 | 35 |
| Sporting Gijón | 38 | 31 |
| Osasuna | 38 | 22 |
| Granada | 38 | 20 |
| | | |
| --- | --- | --- |
| Juventus | 37 | 88 |
| Roma | 37 | 84 |
| Napoli | 37 | 83 |
| Lazio | 37 | 70 |
| Atalanta | 37 | 69 |
| Milan | 37 | 63 |
| Inter Milan | 37 | 59 |
| Fiorentina | 37 | 59 |
| Torino | 37 | 50 |
| Sampdoria | 37 | 48 |
| Sassuolo | 37 | 46 |
| Udinese | 37 | 45 |
| Cagliari | 37 | 44 |
| Chievo | 37 | 43 |
| Bologna | 37 | 41 |
| Genoa | 37 | 36 |
| Empoli | 37 | 32 |
| Crotone | 37 | 31 |
| Palermo | 37 | 23 |
| Pescara | 37 | 17 |
| | | |
| --- | --- | --- |
| Bayern Mun | 34 | 82 |
| RB Leipzig | 34 | 67 |
| Bor Dortmd | 34 | 64 |
| TSG Hoffenheim | 34 | 62 |
| 1. FC Köln | 34 | 49 |
| Hertha BSC | 34 | 49 |
| SC Freiburg | 34 | 48 |
| Werder Bremen | 34 | 45 |
| B Gladbach | 34 | 45 |
| Schalke | 34 | 43 |
| Eintracht Frankfurt | 34 | 42 |
| Bayer Levkn | 34 | 41 |
| FC Augsburg | 34 | 38 |
| Hamburger SV | 34 | 38 |
| Mainz 05 | 34 | 37 |
| VfL Wolfsburg | 34 | 37 |
| FC Ingolstadt | 34 | 32 |
| Darmstadt 98 | 34 | 25 |
| | | |
| --- | --- | --- |
| Monaco | 38 | 95 |
| Paris St G | 38 | 87 |
| Nice | 38 | 78 |
| Lyon | 38 | 67 |
| Marseille | 38 | 62 |
| Bordeaux | 38 | 59 |
| Nantes | 38 | 51 |
| Saint-Étienne | 38 | 50 |
| Rennes | 38 | 50 |
| Guingamp | 38 | 50 |
| Lille | 38 | 46 |
| Angers | 38 | 46 |
| Toulouse | 38 | 44 |
| Metz | 38 | 43 |
| Montpellier | 38 | 39 |
| Dijon | 38 | 37 |
| Caen | 38 | 37 |
| Lorient | 38 | 36 |
| Nancy | 38 | 35 |
| Bastia | 38 | 34 |