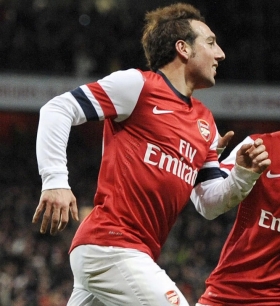 If Atletico Madrid are to complete a transfer for Arsenal forward Santi Cazorla, they will have to spend 20 million euros to wrap up a deal. The Spain international has been linked with a summer move away from the Emirates Stadium.
- read news story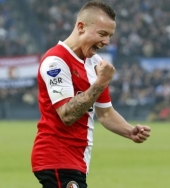 Manchester United are apparently considered favourites to sign up highly-talented midfielder Jordy Clasie from Feyenoord this summer.
-
read news story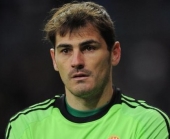 Arsenal boss Arsene Wenger will reportedly make a move for Real Madrid goalkeeper Iker Casillas in the current transfer window, according to The Metro.
-
read news story
Liverpool have renewed their interest in Chelsea's left back Ryan Bertrand. After the Blues acquired Filipe Luis from Atletico Madrid, Bertrand's future at Stamford Bridge has never been so uncertain.
-
read news story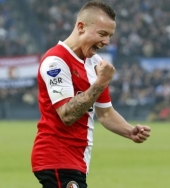 Ronald Koeman, the newly appointed Southampton coach, has approached Feyenoord regarding the status of defensive midfielder Jordy Clasie. The Dutchman is being lined up as a replacement for Morgan Schneiderlin.
-
read news story
Arsenal
0
0
Aston Villa
0
0
Burnley
0
0
Chelsea
0
0
Crystal Palace
0
0
Everton
0
0
Hull
0
0
Leicester
0
0
Liverpool
0
0
Man City
0
0
Man Utd
0
0
Newcastle
0
0
QPR
0
0
Southampton
0
0
Stoke
0
0
Sunderland
0
0
Swansea
0
0
Tottenham
0
0
West Brom
0
0
West Ham
0
0
| | | |
| --- | --- | --- |
| Atlético Madrid | 38 | 90 |
| Barcelona | 38 | 87 |
| Real Madrid | 38 | 87 |
| Athletic Bilbao | 38 | 70 |
| Sevilla | 38 | 63 |
| Villarreal | 38 | 59 |
| Real Sociedad | 38 | 59 |
| Valencia CF | 38 | 49 |
| Celta de Vigo | 38 | 49 |
| Levante | 38 | 48 |
| Málaga | 38 | 45 |
| Rayo Vallecano | 38 | 43 |
| Getafe | 38 | 42 |
| Espanyol | 38 | 42 |
| Granada CF | 38 | 41 |
| Elche | 38 | 40 |
| Almería | 38 | 40 |
| Osasuna | 38 | 39 |
| Real Valladolid | 38 | 36 |
| Real Betis | 38 | 25 |
| | | |
| --- | --- | --- |
| Juventus | 38 | 102 |
| Roma | 38 | 85 |
| Napoli | 38 | 78 |
| Fiorentina | 38 | 65 |
| Internazionale | 38 | 60 |
| Parma | 38 | 58 |
| Torino | 38 | 57 |
| Milan | 38 | 57 |
| Lazio | 38 | 56 |
| Verona | 38 | 54 |
| Atalanta | 38 | 50 |
| Sampdoria | 38 | 45 |
| Udinese | 38 | 44 |
| Genoa | 38 | 44 |
| Cagliari | 38 | 39 |
| Chievo | 38 | 36 |
| Sassuolo | 38 | 34 |
| Catania | 38 | 32 |
| Bologna | 38 | 29 |
| Livorno | 38 | 25 |
| | | |
| --- | --- | --- |
| VfL Wolfsburg | 0 | 0 |
| VfB Stuttgart | 0 | 0 |
| TSG 1899 Hoffenheim | 0 | 0 |
| Sport-Club Freiburg | 0 | 0 |
| SV Werder Bremen | 0 | 0 |
| SC Paderborn 07 | 0 | 0 |
| Hertha BSC | 0 | 0 |
| Hannover 96 | 0 | 0 |
| Hamburger SV | 0 | 0 |
| FC Schalke 04 | 0 | 0 |
| Bayern Munich | 0 | 0 |
| FC Augsburg | 0 | 0 |
| Eintracht Frankfurt | 0 | 0 |
| Borussia Mönchengladbach | 0 | 0 |
| Borussia Dortmund | 0 | 0 |
| Bayer 04 Leverkusen | 0 | 0 |
| 1. FSV Mainz 05 | 0 | 0 |
| 1. FC Köln | 0 | 0 |
| | | |
| --- | --- | --- |
| Bastia | 0 | 0 |
| Bordeaux | 0 | 0 |
| Caen | 0 | 0 |
| Evian Thonon Gaillard | 0 | 0 |
| Guingamp | 0 | 0 |
| Lens | 0 | 0 |
| Lille | 0 | 0 |
| Lorient | 0 | 0 |
| Lyon | 0 | 0 |
| Marseille | 0 | 0 |
| Metz | 0 | 0 |
| Monaco | 0 | 0 |
| Montpellier | 0 | 0 |
| Nantes | 0 | 0 |
| Nice | 0 | 0 |
| Paris St-Germain | 0 | 0 |
| Reims | 0 | 0 |
| Rennes | 0 | 0 |
| St Etienne | 0 | 0 |
| Toulouse | 0 | 0 |