Liverpool's Gerrard on career saving surgery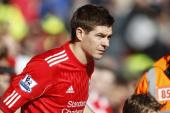 Liverpool captain

Steven Gerrard

admits that his groin injury in March was very serious and that he required career saving surgery to ensure his return back to first team duties.
Gerrard has only played six times under newest boss Kenny Dalglish, and Liverpool are expecting the England international back shortly.

"I basically had career-saving surgery", said Gerrard to Liverpool's official site, "and it's gone really well.

"I was at the stage where I was outside running again but getting some discomfort from around my pelvis.

"It was really frustrating because we couldn't work out what the pain was. When blood tests revealed I had an infection it was fantastic news.

"It was strange because I wasn't ill and usually when you get these types of infections you are in bed sick. Intravenous antibiotics cleared it up and I've been pain free for four weeks now.

"Since coming out of hospital my rehab has gone really well. I'm really happy and positive again. My groin is as strong as ever."