Adebayor: I will never return to Man City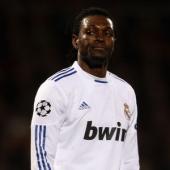 Emmanuel Adebayor

, who scored his debut goal for Tottenham against Wolves last weekend, has vowed to never return to Man City.
"It's too early to say whether I'll stay (at Tottenham)," he said,

"But the love between Manchester City and myself is broken.

"I still have three years left on my contract and even at the end of this season, another two. I will decide on my career in April or May."