Aston Villa could sign Nemanja Milic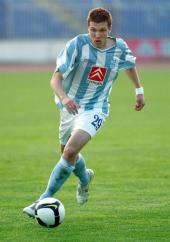 Nemanja Milic is the latest striker to have been linked with a move to Aston Villa. According to reports

Alex McLeish

could offer 2m GBP for the player in January.
The 21 year old striker currently plays for OFK Belgrade and is in the under 21 side for Serbia.

Mcleish currently has impressive duo Darren Bent and Gabriel Agbonlahor playing up front, but is believed to be looking for more strength in depth for the second half of the Premier League season.