Adebayor must take Tottenham pay cut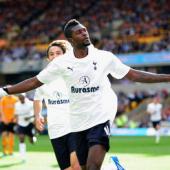 Emmanuel Adebayor

will have to take a paycut if he is to permanently make a move from Manchester City to White Hart Lane. The Togan forward has enjoyed life at Spurs since arriving on loan.
Last week, Adebayor shone against former club Arsenal whilst the previous week the striker scored a brace against Wolves.

Adebayor recently admitted that he would like to make a permanent move to Spurs, but Harry Redknapp the Tottenham manager admits that the striker will need to take a pay cut: "If Emmanuel maintains his current form I would love to keep him.

"But his wages are going to be a major stumbling block, that's for sure."

"I have no idea how much we are paying towards his wages at the moment as the chairman (Daniel Levy) deals with those issues but I suspect they are massively subsidised by City."