Chelsea manager defends Blatter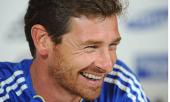 Chelsea manager

Andre Villas-Boas

thinks that enough is enough, and FIFA president

Sepp Blatter

should be forgiven for his comments on racism. Blatter insists that, even though racism may be rife in the game, everything should be forgiven with a handshake after the game.
The Chelsea manager has leapt to the defence of the Swiss president, and said:


"To put in doubt the leadership of Sepp Blatter as Fifa president is not for me to say or managers to say.


"Blatter made his apologies today and end of story. When a person assumes he has made a mistake, it's for all of us to accept a mistake was made.


"There are things that should have been avoided in the first place. But at least there is humility."