Hiddink coy on Chelsea speculation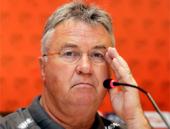 Despite reports that

Guus Hiddink

is being lined up to replace under fire

Andre Villas-Boas

at Chelsea, the Dutchman is sure that he won't be taking the place of Villas-Boas.
Hiddink came to agreement on mutual termination of his contract last week after Turkey failed to qualify for Euro 2012.


Hiddink however doesn't think he will be replacing Villas-Boas, and labelled recent visits to London as vacation time.

Hiddink said: "No, I was contracted to the Turkish Federation at the time. The relationship [with Abramovich] was and has been and will be very good. When I go to London, I am always welcome at Cobham [Chelsea's training ground] and the stadium. We don't speak every week but every now and then there is contact and I feel very welcome always.


"I will take some time off and we will see what the future brings. I have made a decision to stop the previous job and then one must take some time to reflect and look where there is a prestigious project, not just football but also through other things where I can help somewhere.


"I haven't agreed anything with anyone because I was in Turkey, that's why I will take my time to settle down and reflect on what to do. Whether it's nothing because I am 65 and can retire but I feel I have enough energy to go on and what the future brings we will see."