Aston Villa won't be shopping in January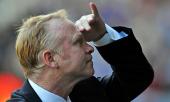 Aston Villa manager

Alex McLeish

is the latest Premier League manager to admit that his club will not be taking an interest in the transfer market in January. The Villains have struggled for form this year, but Scottish coach McLeish is in no mood for the shopping in the January sales.
Aston Villa are amongst the teams linked with a number of players for January, including VfB Stuttgart midfielder Timo Gebhart and Tottenham defender Younes Kaboul.


The Villains will instead be focusing on improving their form as opposed to splashing the cash.


"At the moment we've not had that discussion about whether we will be in the market to bring new players in," said McLeish.


"Randy Lerner and the board want to drive the wages down, in terms of the financial fair play but also in the way that the club's run and not to be doing a Leeds United as Randy mentioned last week in a news article.


"It depends where we're at. If we're in a really healthy position we'll probably not look to do anything.


"I wouldn't have thought we would, but we haven't had a meeting to say that there's no funds available.


"The club's got to run within its means. I don't know how many times we've got to talk about this. It's just the same record every week."