Kuyt: lucky not to be sent off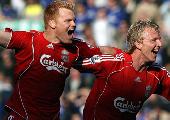 Dirt Kuyt has admitted that he was lucky not to be sent off after his horror two-footed lunge on

Phil Neville

. Referee

Mark Clattenburg

sent off two Everton players, and many feel Kuyt should have been sent off. The result of the game may have been very different had Kuyt seen red, as he later went on to score the winning penalty.
In video footage the player seemed to lunge in two footed on the player.

Kuyt himself said: "People saw the TV and said my booking looks bad. But I was just trying to make a tackle and I did not want to touch the player, and I didn't.

"Maybe I was a bit lucky, but I never had any intention of trying to hit the player, it was a yellow card and I accept that."

Everton defender Alan Stubbs said of the incident: "That was a two-footed lunge. If a player leaves the ground with both feet, that's a red card, and he gets a yellow.

"In the laws of the game if a player goes in with two feet and makes a lunge, and that is what it was, it's a red.

"If Phil (Neville) hadn't been so honest he could have been rolling around and trying to get him sent off. It's a two-footed tackle and that's a red card offence."