Kolarov Flattered By Juventus Interest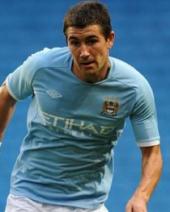 Aleksander Kolarov

revealed that he is flattered by reports linking him with a move to Juventus but he insists he is happy at Manchester City.
The 27-year-old plans on staying loyal to Manuel Pellegrini's side, despite starting just 11 Premier League games under Roberto Mancini last season. Kolarov has struggled to secure a first-team place due to competition from French left-back Gael Clichy.


When asked about Juventus' interest in him, the defender said that he would like to stay at City but if he does not get sufficient space in the team, he could evaluate his options.


"I'm happy at City and it is my intention to remain," Kolarov told Tuttosport.

"I want to play as much as possible to show [Manuel] Pellegrini my qualities. I want to remain in Manchester, but it is only logical that should I not be given any space in the team then I'll have to evaluate a few things.

"It is nice to know that an important and prestigious club such as Juventus like me, but I'm not the only person who will have a say on my future.


"If something is to happen then it will be decided by the two clubs first. What I can say is that I was happy in Italy and I like your football."