James Rodriguez - The next Messi?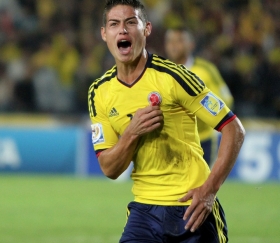 James Rodriguez

is the name on everybody's lips after his sublime performance against Uruguay. He is the go to man for Colombia, the one who can just produce a bit of magic and inspire his team to victory. This was highlighted by his phenomenal strike from 20 yards which was out of the reach of Uruguay's goalkeeper, Muslera. If you look at James just before he picked up the ball he took a quick look at the goal, and decided exactly where the ball was going. This has to be goal of the tournament, which I'm sure

Tim Cahill

won't be too happy about.
World Cup

As well as scoring a wonderful volley James has put himself above Messi, Neymar, and Muller as top goal scorer of the World Cup with 5 goals as well as 2 assists. The World Cup is where stars can be unearthed and Colombia definitely have a great player on their hands who is only going to get better, considering his young age of 22.

The comparisons to Messi?

They're both left-footed geniuses. James started out as a winger, just like Messi, and has adapted into a number 10 role which he operates in for Colombia. They both have deadly finishing, arguably proven as they have both scored in every game of the World Cup they have played in. Both Messi and James have stepped up when it matters most to produce that little bit of magic that wins football matches.

Whats next for James?

Currently James plays for AS Monaco after a big money move from Porto in 2013. As he has recently arrived and Monaco are more than financially well off, it is unlikely that James will leave Monaco this summer. However at the tender age of 22 he is likely to leave at some point, but where will he go? Manchester United have been linked with him in the past and considering his ability if Louis van Gaal can find the money. I'm sure United would love him as a long overdue replacement for Cristiano Ronaldo.

There is no doubt that James Rodriguez is already a top star with a bright future. Where there are top stars, there is a team from Madrid who are always looking. I can see James ending up at Real Madrid who are always looking for more "Galacticos" to team up with Ronaldo and the rest of the crew.

When Madrid are looking at a top star you can bet that Barcelona will also be looking and considering the side has been struggling recently, combined with the fact that Cesc Fabregas is on his way out to Chelsea, Barcelona are likely to want to make a big money signing. And James' dribbling, creativity, and deadly finishing can help Barcelona regain their title.