This Is Why Manchester United Will Finish In The Top Four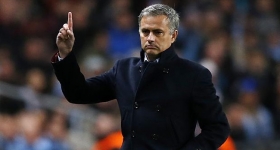 When The Special One arrived at the Theatre Of Dreams and faced the media for the first time, there was a lot of anticipation from the fans and players alike to hear what the new manager had to say.


They expected Jose Mourinho to talk with so much confidence and aggressiveness about what he wanted to achieve at the club and they were not disappointed.

"It will be easy and pragmatic to say let's work and try to be back to the Champions League, try and be back to the top four, try and be back to the Europa League. I prefer to be more aggressive and say we want to win" were the sweet words uttered by Mourinho, that beautiful Tuesday afternoon at Old Trafford. How often do you see a manager speak with so much confidence in himself and his squad in his first press conference? I was impressed!

Fast forward to five months and Man United find themselves sixth on the Premier League table, four points adrift of fourth-placed Arsenal and a further thirteen points adrift of leaders Chelsea. This was certainly not what the fans were expecting. That "happy" Jose Mourinho that spoke with so much confidence during his first interview is already looking very sad and frustrated down the touchline. He has already been fined twice by the FA for speaking about referees' decisions.

Jose Mourinho and his charges made a bright start to the season by winning their first three Premier League matches and scoring six goals in total. Following that winning run were frustrating draws against Stoke, Burnley, Everton and Arsenal. Man United were also dismantled and hammered 4-0 by Chelsea in October. These terrible results heaped a lot of pressure on Jose Mourinho and he started looking for solutions to the problems.

The reasons for those struggles are not far-fetched. Mourinho continued to stick with misfiring striker Zlatan Ibrahimovic throughout the months September and October despite his goal drought. The influential striker was misfiring throughout the period but Mourinho decided to stick with him. This affected Man United a lot as they continued to draw and lose a number of matches after producing good performances in those matches.

Another reason for those struggles was Mourinho's decision to keep playing the immobile Marouane Fellaini at the expense of experienced English midfielder, Micheal Carrick. Fellaini affected Man Utd's attack by giving a handful of wayward passes and Gary Neville even called him "idiotic"!

However, Man United fans including me have a reason to be optimistic, with the club showing improvements of late and have now recorded four Premier League wins in a row. Zlatan Ibrahimovic is on fire, Herrera is playing the best football of his career, Jones and Rojo have formed a reliable partnership in defense, Mkhitaryan has finally found his feet and Pogba is phenomenal!

The midfield three of Pogba, Carrick and Herrera are playing some good football. They have marshaled the midfield properly and have often joined in attack and defense. They have been a job to behold!

Zlatan Ibrahimovic… This man has just been superb. He is banging goals from all cylinders and he is even chipping in with some assists. He has been key to Man United's recent upturn in form and I expect this run to go on further.

If, just if the players can keep up with their current form and continue this excellent winning streak, then there is no reason why Manchester United can't finish in the top four this season and even challenge for the title. Jose Mourinho will become a happy man again!