FIFA President Not Worried About World Cup Hooliganism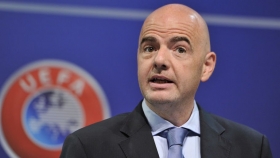 President of FIFA Gianni Infantino has claimed that he is "not at all concerned" about the prospect of hooliganism at next year's FIFA World Cup in Russia. 


The positives of last summer's European Championship in France took a setback when regular violence was seen between rival sets of supporters, most notably England and Russia. The Russian hooligans became infamous for their "professional" nature, often seen wearing gum shields in anticipation of a fight. 

With the World Cup being hosted in Russia next year, and claims from some Russian hooligans that there is a "100 percent guarantee" that there will be trouble, it has caused many international fans to think twice about following their team to the tournament. 

Infantino has said today that he is confident that Russian authorities will deal with any such incidents and that it is of high importance. Contact has been made with UEFA and French authorities to assure that known troublemakers are identified beforehand, allowing for the World Cup to unite the world through football, as it so often has.

The head of FIFA also went on to suggest the possibility of  several host nations in future World Cup tournaments, which following the 2018 tournament will increase to facilitate 48 countries.