Clattenburg Quits Premier League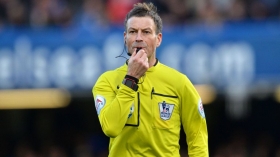 Referee

Mark Clattenburg

has announced that he is to quit his role in the English Premier League in order to pursue a role in Saudi Arabia. 
Clattenburg has been named by some in recent years at the best referee in the world, an opinion supported by his appearances last season as referee of the Euro 2016 final, Champions League final and FA Cup final. 

The decision taken by the 41 year old is thought to be with immediate effect, making him ineligible to take charge of the next round of Premier League games. Clattenburg first took charge of a Premier League match in 2004, and has gone on to officiate 289 games in the English top flight. His career has also seen him take charge of fixtures in the Champions and Europa leagues on a regular basis, as well as internationally in the UEFA Euro competitions and Olympic games. 

This news will not come completely as a surprise, as Clattenburg previously admitted that he would consider refereeing in China, should an appropriate offer be made. 

Mark Clattenburg has been the highest profile referee in the English game over previous years, giving the opportunity for another official to step up now to take over in that role.