Benitez: we must work harder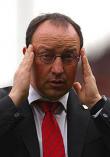 Rafa Benitez

has admitted that his team must work harder from now on in for the rest of their Premiership challenge as they aim for Champions League football. Benitez has called on his players to dig deep in the coming months.
"Players must look at themselves and say 'how can I improve?' That is what we must do, everyone must improve," he said.

"The team have quality and now we need to show our supporters that the commitment is there and we want to progress. We will do it.

"This has been a frustrating time for me as a manager and we must play well and give our supporters something to make them happy.

"They are always fantastic with us, with me, with the team. We have drawn too many and then to lose like we did at West Ham means we have to do our best now and give our supporters something to be proud of.

"The confidence is low, but I do not like to criticise the players. If they work hard, that's okay.

"If you have to say anything to them it must be done in the dressing room.

"We know we need to improve, our supporters deserve more than they are seeing."