Ronaldo could have been a Gunner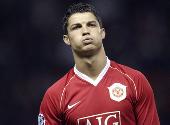 Arsene Wenger

has revealed that Arsenal were very close to signing Christiano Ronaldo from Sporting Lisbon before he moved to Manchester United.
Wenger's move for the Portugese winger was blocked because of Manchester United's strong links with Sporting Lisbon.

Wenger said: "He was here much earlier - he could tell you that if he wants.

"Manchester United had a partnership with Sporting Lisbon when United assistant coach Carlos Queiroz moved and that made it very difficult."