Isco in possible cut price Premier League move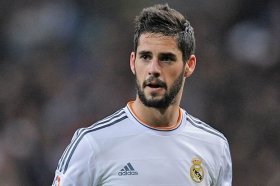 Premier League teams Chelsea and Tottenham Hotspur have been alerted to the fact that Real Madrid may be willing to sell Spain midfielder Isco at a cut price to assure that he doesn't sign for bitter rivals Barcelona. 
Barcelona are rumoured to have made Isco a target for the summer, as they look to rebuild their squad for next season. Despite Isco looking likely to leave the Santiago Bernabeu, Real are desperate not to lose him to their arch rivals, opening the door for other interested parties. 

Premier League teams Chelsea and Tottenham Hotspur are also said to be interested in Isco, who has appeared for his current team thirty times so far this season. Reports in The Sun today are saying that Real Madrid are so determined to not sell to Barcelona that they may be willing to sell to another team for a much lower fee. 

The report suggests that Madrid chiefs could let Isco go for around £10.3 million, which for a player of his ability would be a great bit of business. With the opportunity to sign the Spain international for such a small fee will undoubtedly now attract even more attention for his signature.