Mourinho wants Willian reunion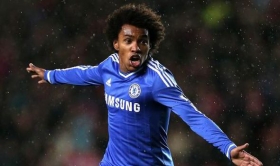 Manchester United manager

Jose Mourinho

has been linked with many names recently ahead of the summer transfer window, with reports suggesting that the Portuguese manager is now turning his attention to Brazilian winger Willian, with whom he worked with during his time at Chelsea. 
Mourinho is an admirer of not only Willian's ability, but also his work rate on a regular basis for current team Chelsea. As he looks to return Manchester United back to the top of the Premier League next season, it is that combination of talent and hard work that he will look to integrate into his team. 

Yahoo Sports reports today that Willian is amongst his top targets for the summer, as he continues to compile his list before the window opens. At this point in the season, his previous signings are settling in well, however, as so often seen, players moving from foreign leagues can find it difficult to settle in quickly to the Premier League, due to the pace and intensity it offers. Willian already has four years Premier League experience under his belt, which would eliminate that problem for Mourinho. 

The issue for Manchester United could be that Chelsea will not be keen on selling one of their players to a team that could well be pushing them for the title next season. It would not be the first time that it would have happened though, with Juan Mata making the same move in the not too distant past.