United looking to activate Neymar release clause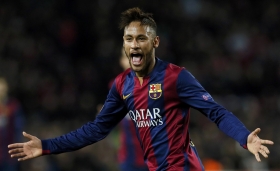 Manchester United will look to add Brazil and Barcelona superstar Neymar to their squad when the transfer window opens and will be willing to activate his two-hundred-million Euro release clause to do so.
Reports in publication Sport on Monday suggest that Manchester United have been in contact with Neymar's representatives in regards to a potential move, as Jose Mourinho plans to spend big in order to bring back Premier League success to Old Trafford next season.

After winning everything there is to win in Spain, Neymar, who has recently spoken about his admiration for the Premier League, may be open to the move that will see him transfer to England. The deal would also be massive financially for Neymar, with the reports saying that the Red Devils would be willing to pay him an annual salary in the region of twenty one million pounds after tax.

The transfer release clause that is written into Neymar's contract currently stands at £173 million, which United chiefs appear willing to pay to assure that they get the Brazil star. Chelsea have also shown interest in a big money move for him, however they are not as willing to pay such a high amount. 

Neymar has fourteen goals and eighteen assists to his name for Barcelona this season, highlighting what a key influence he will be, whoever he is playing for when that summer transfer window closes.