Neymar deal impossible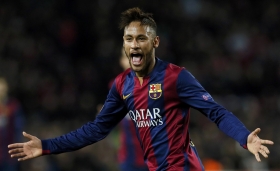 Neymar has been linked with a move to Manchester United over the last few weeks, but

Jose Mourinho

now claims that there is no chance of the Barcelona star moving to Old Trafford. 
United are rumoured to have a huge transfer budget to spend in the next transfer window, with Mourinho plotting a title challenge next season. Brazil striker Neymar has also expressed his admiration for the Premier League recently, leading many to speculate that he is set to leave the Nou Camp at the end of the season. 

Speaking to ESPN, Mourinho has said that "it's speculation" and that "to ask for Neymar is absurd." The La Liga star has only recently signed a new five year deal with the Catalan giants, which includes a buy out fee of around £181 million. 

Mourinho went on to explain that he feels Barcelona cannot face to lose Neymar, stating that when Messi leaves, he will be their talisman. If he left any doubt in the interviewers mind about whether or not he was about to sign Neymar, he finished by likening the transfer to trying to break into a safe - "impossible."