Chelsea and West Ham to ground share?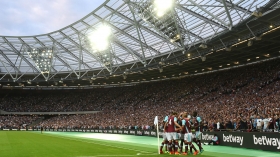 Stamford Bridge is one of the most recognisable stadiums in the Premier League, but Chelsea will be looking for a new home for three seasons whilst their stadium is redeveloped. West Ham United's London Stadium has emerged as a possible destination for the Blues.


Wembley is said to be the preferred destination for Chelsea, however it is uncertain whether a deal can be done. With Tottenham looking to play at England's national stadium too whilst White Hart Lane is developed, Chelsea may have to look elsewhere.

Twickenham Stadium and the Emirates have both been rejected, whilst Chelsea themselves have rejected the possibilities of a groundshare with Crystal Palace, Fulham and Queens Park Rangers due to their smaller stadiums.

West Ham's London Stadium, which was initially built for the 2012 Olympic Games, has hosted Premier League games for the first time this season. It has taken the Hammers a while to settle in their new home, but there is no doubt that it is a top class sporting facility.

Talks will now be held between the two clubs according to The Times, with a view to starting the ground share in the 2018-19 season.