Harry delighted with Defoe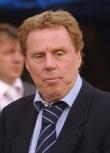 Harry Redknapp

was delighted to see his new signing

Jermain Defoe

on the scoresheet in his first game for Portsmouth since making the move from London on transfer deadline day. Defoe grabbed the equaliser against Chelsea.
Redknapp said: "Jermain did well and took his chance. He'll score lots of goals for us and he could have had some more today, but it was a great game and a good result for us.

"We've taken a point off all the top four here this season and we're looking a strong side even without the four African boys who are still away.

"Lassana Diarra is a top player. I thought his performance was absolutely fantastic and that's three just like that in a row since he walked in the place a couple of weeks ago." Defoe was pleased with his goal but also thought he could have added to his tally.

He said: "We could have won it in the end, although I think that would have been a bit rough on Chelsea.

"I thought I would score again when I got through and chipped it over the keeper. Unfortunately it dropped just wide.

"I had another chance earlier and got tackled. Then I lifted my head and put one over the crossbar, but although you'll always regret things like that I'll take the one goal and I'm happy.

"I've come here to score goals and help the team get three points every week. Hopefully that's just the start, but we showed today we have a lot of quality in the side.

"Chelsea had chances too but I thought we matched them all the way and that's really encouraging. They are a very good side even with their missing players."