Spain and Italy options for Manchester City winger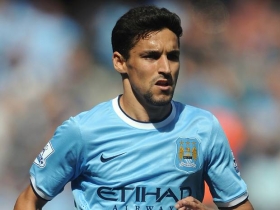 Manchester City winger

Jesus Navas

is out of contract with the club in the summer, and as things stand, he looks set to be free to leave the club when this campaign is over, With the transfer window approaching, two teams look set to compete for his signature, one from La Liga and another from Serie A.


Although he has been used by manager Pep Guardiola in recent weeks, Jesus Navas has never really managed to establish himself as a first choice winger for the Manchester Club. After failing to compete for the Premier League title this season, Guardiola is set to give his City side a complete overhaul this summer, meaning that players such as Navas are likely not to be offered new contracts by the club.

The side that Jesus Navas joined Manchester City from, Sevilla, declared their interest in him last week, but now Italian media is reporting that Serie A side Roma would also like to add him to their team.

At this stage, La Liga side Sevilla still look like favourites to sign Navas, who appeared just shy of 400 times for them in his thirteen year spell at the club. They appear to feel confident that he will return too, with Sevilla President Castro saying "His contract is ending and this is his home for life."