Vincent Janssen dismisses Spurs exit talk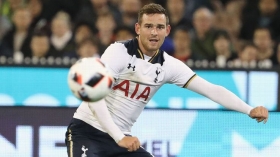 Dutch forward

Vincent Janssen

has ruled out a potential move away from Tottenham Hotspur despite his struggles during the ongoing campaign.
The Netherlands international was brought in from AZ in a £17m deal last summer following an impressive season where he netted 31 goals across all competitions.

Since then, the 22-year-old has failed to find his feet in England with just one goal from open play in the Premier League.

Recent speculation suggested that the Holland international could be cashed in for his average efforts in the summer, but the player insists that he is content to continue his association with the north London club.

"There have been a lot of rumours about me leaving but I have not been at the club for a year yet. When I joined I signed a long contract and I am happy here," he told The Sun. 

Janssen also feels that he has become a better player in his time at White Hart Lane despite having failed to match his credentials from the previous campaign.

"I have not scored as many goals as I wanted to but I know I have improved as a player and I am a better player now than I was last season.I know people will see my number of goals and maybe joke at that. But this is my first season in a new country at a new club and I have learnt so much."

The former Feyenoord graduate dubbed the next 'Ruud van Nistelrooy', has already made his name on the international stage with four goals in nine outings for the Netherlands.