UEFA to introduce new look penalty shootouts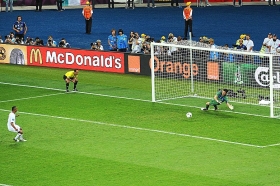 Penalty shootouts produce some of the most exciting times in knockout football, when players and fans alike look on, with hearts in mouths, as one player has the chance to win the game. Now, UEFA may be set to introduce a new format to the dramatic match decider.


Research has concluded that the team that goes first in a penalty shootout has a 60 percent chance of winning the matchup, with the pressure often being more intense for the second team.

With that in mind, UEFA is set to introduce a system that would mimic that of the tie break format in tennis. Being named the ABBA format, the new penalty shootout would see the first team (A) take a penalty, with the next team (B) then taking two, then "A" taking two, and so on, until a winner is decided.

This would alter the team that is effectively shooting to keep themselves in the game, giving a more even chance of victory to both teams. UEFA will trial the new format in the current under-17 European Championships, with a view to operating it on a wider scale, should it prove successful.