Woody: Spurs will win prizes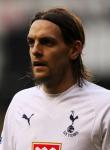 Jonathan Woodgate

believes he has made the right decision in moving from Middlesbrough to join Tottenham. Woodgate believes that Tottenham are destined to win prizes under

Juande Ramos

and that at Spurs he is more likely to appear for England.
"I could have stayed at Middlesbrough and had the easy, comfortable life, but I wanted to come to Spurs and play for a team who are going places," he said in the Daily Mail.

"I want to play for a club with ambition who are trying to win trophies. With this manager and with these players, you can see what they're trying to build.

"Being at Spurs reminds me of when I was at Leeds and we had all these new players coming in - I was excited.

"The fans are good at Spurs, the manager has won silverware, he looks the part and he knows what he's doing - he's a proper manager.

"I'm playing with good players here. Fabio Capello will come and watch a lot. It's just down the road for him, but it's four hours to Middlesbrough."