Liverpool's Woes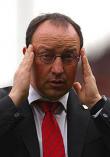 Liverpool football club, an organisation steeped in glorious history is currently squabbling frenetically for a fourth Champions League spot. With boardroom wrangles and frustrating inconsistency, Liverpool have played below expectations. Are Liverpool overated or are they merely victims in the ongoing takeover scandal.
It is the beginning of February and after having spent big in the summer, Rafa Benitez and Liverpool's fans would have expected to be challenging for top honours on all fronts.

However, they lie below their bitter rivals Everton in the table and their 18 year wait for the League title is almost certainly set to continue. Before the season began, so-called experts predicted that Liverpool would build off their Champions League final appearance with a top three finish perhaps even snagging the title.

With fresh blood arriving in the form of Fernando Torres and Ryan Babel.

However, a closer look at Liverpool's squad reveals a string of second rate players such as Harry Kewell and Fabio Aurelio and second rate buys, Skrtel and Voronin. With little attacking innovation, negative long ball tactics and an over reliance on Gerrard and Torres, Liverpool need to stop blaming the boadroom situation for their on pitch woes and should instead concentrate on using the players they have at their disposal in their best positions or renovate their tactics.

Otherwise, Liverpool will foreover be a club nolstagacally grasping at former glory and bogged down in a perennial battle for fourth place.