Borussia Dortmund qualify for Champions League and Hamburg survive in hectic Bundesliga finale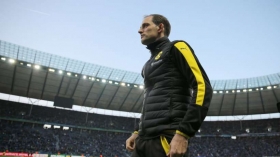 In an exhilarating final round of games in the Bundesliga, Dortmund confirmed their place in next season's Champions League while Hamburg avoided a relegation play-off.
There was unfinished business in the final round of games in the Bundesliga with both Champions League and Europa League places up for grabs, four teams fighting to avoid relegation and Phillip Lahm and Xabi Alonso playing the final game of their respective careers. 

Borussia Dortmund went into their game needing a victory over the exciting Werder Bremen to clinch third place and more importantly automatic qualification for the Champions League next season. Hoffenheim, who played relegation battlers Augsburg, were also fighting for third place.  

Werder Bremen, who were fighting to get into a Europa League spot themselves, were leading 3-2 after 70 minutes but two late penalties by Marco Reus and Pierre Aubameyang ensured a thrilling 4-3 victory for Dortmund. Aubameyang also claimed the golden boot with 31 goals for the season. 

Hoffenheim took fourth spot following their underwhelming 0-0 draw with Augsburg and will need to play-off to enter the Champions League next season.  

The relegation battle was also a closely contested affair with the aforementioned Augsburg, Hamburg, Mainz 05, and Wolfsburg fighting to avoid the feared relegation play-off spot. Augsburg drew 0-0 and Mainz 05 lost only by 2 goals to maintain their Bundesliga status.  

That left Hamburg and Wolfsburg who essentially played in a winner-takes-all match against each other. In the end, Wolfsburg surrendered a one goal lead as Hamburg midfielder Gian-Luca Waldschmidt, who came on only two minutes earlier, scored an 88th minute winner to send Wolfsburg into the relegation play-offs. 

Elsewhere, Phillip Lahm and Xabi Alonso bidded farewell to their professional careers as champions Bayern Munich eased past Freiburg 4-1. FC Cologne won 2-0 and Bayer Leverkusen also rounded off a poor season by thrashing Hertha Berlin 6-2. Despite the result, both Hertha Berlin and FC Cologne will play in the Europa League next season.