Ibrahimovic's agent reveals striker's future plans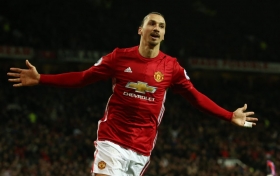 Zlatan's Ibrahimovic's agent

Mino Raiola

has gone on record to talk about the Swede's plans amidst reports linking him to the MLS.
Ibrahimovic has had an immense season for Manchester United and proved many doubters wrong as he showed he can still perform at the very highest level. 

However, the Swede suffered a serious injury in the Europa League quarter-final clash against Anderlecht, tearing his anterior cruciate ligament and having to undergo reconstructive surgery which ruled him out of the last 10 games of the season, including the Europa League final.

Since then, there has been much speculation about where the forward will go next or if he might possibly retire with his contract with United up in the summer.  

However, his agent, Mino Raiola has answered some of those questions in an interview with Sky Sports in Italy. 

Raiola was quoted as saying: "Will he continue at United? I don't know, we will talk soon to sort out the future."

"Many clubs have asked for Zlatan. [But] He can play two more years and will stay in Europe, 100 percent."

Raiola comments indicate that it will now be up to Ibrahimovic himself to decide if he wants to stay in United or leave for another team.

Ibrahimovic scored 28 goals and assisted 10 times in 46 appearances in what was turning out to be an incredible debut season before his unfortunate injury.