Great Italian forwards – lost to a stereotype.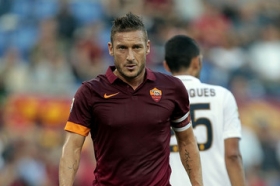 There is a common misconception about Italian football. The game has been masked by a stereotype, a stereotype which states that clubs play 5 at the back and every game is a tedious 0-0 draw. This results in people criminally ignoring some of the greatest goalscorers ever seen in the beautiful game.

Considered by many to be the greatest Italian footballer of all time, Giuseppe Meazza is also one of the most unknown. While he had spells at Milan, Juventus, Atalanta and Varese, it is his time with Inter where he was at his peak. Between the years 1927 and 1940 he scored 241 goals in 348 appearances for the blue and blacks, leading the club to 3 Serie A titles and a Coppa Italia. He was also a force in the national team where, in only 53 appearances, he scored 33 goals and won two world cups.

Meazza's main striking partner in Italy's 1938 world cup triumph was Silvio Piola. The majority of his 333 career goals were the 143 he got for Lazio however he guaranteed goals at whatever club he was playing for. He started his career at Pro Vercelli where he managed 51 goals earning a move to Lazio where, in 1946 and 1947, he finished runner up in the league. The 27 goals in 23 games at Torino that followed was an incredible record and he also hit 26 and 86 goals for Juventus and Novara respectively. Like Meazza he had an incredible goalscoring record for Italy, 34 goals in 30 games, and was part of the 1938 Italian world cup winning squad.

There are a lot of things that Christian Vieri has in common with Luca Toni. Both were fantastic Italian strikers, both won a league title in a major league and both played for a remarkable amount of clubs. Vieri managed to play for an incredible 15 clubs in a 17 year career, Toni managing to go two better with 17 teams. Vieri bagged 194 goals in his career, including 103 for Inter in a 6 year spell, and also scored 23 for the Italian national team. Toni, on the other hand, had a good record at most of his clubs most notably Palermo, Fiorentina and Bayern, where he won the Bundesliga in 2008. He also won the world cup with Italy and scored 16 goals for the national team in total.

In contrast to the last two, loyalty is a very common attribute in Italian forwards. The most known example being Francesco Totti. The forward spent the whole of his 25 year career at Roma, amassing 786 appearances and 307 goals. His time there was obviously very successful. A serie A title in 2001 was followed with back to back Coppa Italia victories in 2007 and 2008. Despite not having a great record for the national team, only 9 goals in 58 games, he was part of the 2006 world cup winning squad. Del Piero is another great example of loyalty. After the Calciopoli scandal saw Juventus relegated to Serie B Del Piero, unlike many other stars that left in the summer, pledged that he would stay at the club. He eventually ended his Juventus career in 2012 after scoring 208 goals in 513 appearances. In his time at the old lady he won an abundance of trophies including 6 Serie A titles, 1 coppa Italia and 1 Champions league also collecting a serie B winners medal. He, like Totti, was part of the 2006 world cup winning squad and scored 27 goals for Italy in total.

These are just some of the great forwards that are burdened with a stereotype. There are still plenty more that could have been included, from Filippo "Pippo" Inzaghi to Italy's record scorer Gigi Riva there has been no shortage of great Italian forwards. Who, of course, could forget Paolo Rossi? Best known for his hat trick against Brazil in the 1982 world cup but he also won 2 Serie A titles, 2 European trophies and a Coppa Italia. These forwards are often ignored due to the success of some of Italy's world class defensive players and it is time for the world to admire the talent on display.