Manchester United release Zlatan Ibrahimovic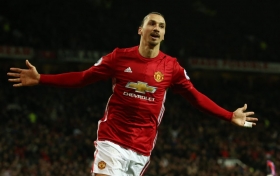 Ibrahimovic's release has been confirmed by the Premier League after a list of released players from each club was published.
Ibrahimovic enjoyed an extremely successful season for Manchester United, scoring 28 goals in 46 games, including 17 in the Premier League. 

However, the 35-year-old's season was abrupted after suffering a serious knee injury in the Europe League quarter-final clash against Anderlecht. His future has been up in the air since then as the Red Devils were unsure of whether to extend his contract, which runs until June 30 this year.

Despite a successful surgery and steady rehabilitation thus far, Ibrahimovic is still expected to be out for the rest of the year, with his earliest return date only in January.  

This proved to be the deciding factor as the Red Devils finally parted ways with the Swede. The news was confirmed after the Premier League published a list of players who clubs would be releasing from their squad this past season. 

The news will likely sadden United fans but it is ultimately the right decision given the circumstances. Assuming Ibrahimovic does come back in January, he would have already missed five months of action and would still have to ease his way back into the side. With his extremely high wages at £300,000 plus per week, this would prove to be an expensive deal with little benefit for Manchester United. 

Jose Mourinho has already begun looking for a replacement, with Alvaro Morata expected to complete a £60 million move from Real Madrid.