Romelu Lukaku urges fans to stop new chant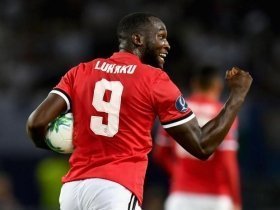 In what was initially seen as a light-hearted chant, Lukaku has been forced to step out and urge fans to scrap the song after it was deemed as racist by some anti-racist organisations.
Lukaku has settled very well into his new club, bagging seven goals in as many games, with his larger-than-life personality also making him a fan favourite. This has led to a new chant, to the tune of Stone Roses' Made of Stone:

"Romelu Lukaku,He's our Belgium scoring genius,He's got a 24-inch penis,Scoring all the goals,B*****d to his toes."

While initially seen as a comedic chant to illustrate the fans' admiration and love for the player, Manchester United have come under some fire for allowing it by anti-racist and anti-discrimination organisations, most prominently Kick It Out. They insist that the reference to the size of his penis is a judgemental and a racially stereotypical comment, thus deeming it racist. The tone of the chant should not be of concern.

This has become quite of a public relations matter for the club as they immediately contacted governing bodies to confirm the racist nature of the chants while releasing a statement saying they have "zero tolerance towards all forms of discrimination".

This has now led to Lukaku himself coming out to urge fans to stop the chant. He sent out a tweet saying: "Great backing since I joined #MUFC. Fans have meant well with their songs but let's move on together. #RespectEachOther"

Former Manchester United player Paul Ince commented that he did not feel the chant was racist and that he would have "laughed it off and that would be it."

Greater Manchester Police have confirmed that they will not be taking action on the matter unless it progresses out of hand. Fans seemed to have tweaked the song during the mid-week match against Burton but the chant soon died out as the match progressed.