Jose Mourinho will support the scrapping of the League Cup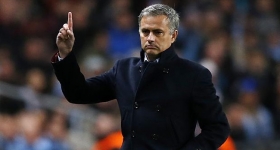 Following Manchester United's 4-1 win over Burton in the League Cup on Wednesday,

Jose Mourinho

came out to suggest that he will support the scrapping of the League Cup.
Goals from Marcus Rashford, Jesse Lingard, and Anthony Martial rounded up what was a fully dominant performance in Manchester United's 4-1 trashing of Burton. 

As expected, Mourinho rested the likes of Eric Bailey, Phil Jones, Antonio Valencia, Nemanja Matic, Romelu Lukaku, Henrikh Mkhitaryan and David de Gea. Surprisingly, Burton manager Nigel Clough also rested many of his first-team players, prioritising his side's Championship fixture against QPR over the weekend. 

This led to Mourinho coming out to comment on the need for the League Cup and how it affects English team's chances in Europe. The Portuguese has long been critical of the English FA, blaming the heavy fixtures and the lack of winter break as reasons behind why English teams perform badly in European competitions.

The 54-year-old said: "If you ask me, 'Could English football survive or even be better without this competition?' Maybe. Maybe we would be fresher for European competitions, for example."

"But we have this competition, we have to respect it, we have to respect the sponsors, we have to respect the opponents, we have to respect the professionalism of all of us trying to do the best."

Many clubs do not prioritise the League Cup as they are more concerned about their league positions and other competitions. The League Cup is usually used as a platform for youth team players to make their first-team break, which then brings the integrity of the competition to question.

Plaudits also sometimes see the League Cup as merely a means for the FA to make money, as seen by the ever-changing sponsors for the event, from Coca-Cola to Capital One to the current Carabao.

While Mourinho definitely has his points, it is highly unlikely that the English FA will ever scrap the League Cup.