Sir Alex happy with Man Utd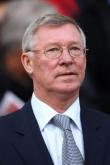 Sir

Alex Ferguson

was happy with the way his side fought back to secure a draw in Manchester United's draw in Lyon in the Champions League. Ferguson was happy with the draw and believed United deserved the result.
Ferguson told Sky Sports: "I think we showed our determination to try to get back.

"We lost a goal out of nothing. We were in complete control and it knocked us back a bit.

"They defended very well and made it difficult for us but I think we deserved it without question.

"There was an urgency to get back in the game and I think we are best in that situation."