Would Ryan Christie be good enough at Celtic?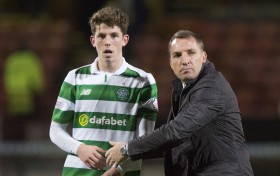 Ryan Christie

has a lot to consider about his future. After recently turning 23 years old, he has reached a critical stage of his career and despite the fact he's saying he's not looking too far ahead, he knows he will need to make some big decisions soon.


Now would be an ideal time for him to settle down at a club, and it's no secret that he is desperate to help Scotland reach the finals of a major tournament.

After establishing himself as a regular while on loan from Celtic at Aberdeen, it's fair to say his time at Pittodrie has been a success. With another Scotland cap in the offing as well as a Scottish Cup semi-final on the way, Christie has more than proved himself to be an asset to any team.

Although his form has been patchy this season, Christie is Aberdeen's main creative outlet and plays with a certain elegance that's rare in Scotland. He has shown that with boss' backing he can produce at top level with his ability to pick a pass, glide past men and hit the back of the net.

It's easy to see why Aberdeen manager Derek McInnes would be quick to sign him full-time, but as it stands Christie is a Celtic player. So no matter what happens between now and the end of the season he is expected to report to Lennoxtown in the summer for pre-season, and it's clear why Hoops boss Brendan Rodgers would want to give him a chance.

But is he good enough to do well at Parkhead? It takes more than just talent to flourish at Celtic, and he would need to convince Rodgers that he was worthy of that role over a group of already well established players who are well on their way to deliver an historic double treble.

Christie has proven that he can be some player but there isn't much between him and the players who currently hold his position at Celtic, and to get to first team he would need to prove that he could perform better.

But then, Rodgers has already expressed interest in wanting to get the measure of him in a Celtic jersey so perhaps he already has a plan in mind for him. Because if there's one thing to know about Rodgers it is that he doesn't sign players or make decisions on a whim – he is always two steps ahead.

Right now the long-term future of Tom Rogic in Glasgow's East End is unclear as he enters the final year of his current contract in the summer and has yet to offer any clear indication on his next move. And his participation in the World Cup puts him into a massive shop window.

There's no doubt that he would generate huge interest and plenty of offers if he performs well at Russia 2018, and he would be well missed at Parkhead should he choose to leave. But perhaps that's just the opening Christie needs – to prepare himself to be the perfect replacement.

The major complaint about Christie was that he was too lightweight for the Celtic squad. Looking at him when he went on loan to Aberdeen this would be a decent assessment, but looking at his current physique it's fair to say he's filled out.

Looking at his arms and around his shoulders, it is clear that he has really worked on that part of his game. Not to mention that Rodgers likes to turn young players in success stories.

When Stuart Armstrong first came on to the scene few people backed him to become a key player, but Rodgers seems to revel in the opportunity to harness young talent and turned him into one.

Looking of what Rodgers looks for in young talent, Christie ticks a lot of the boxes and has a certain Callum McGregor style about him, with a good dose of first team football and Premiership experience thrown in, too.

Players like Armstrong and McGregor owe much of their success to Rodgers belief in them. Had there not had a manager who believed in them as much they might not have had the results they do now. Christie falls under a similar category and probably would not have done as well if McInnes didn't devote so much time and belief in him.If that is what he is capable of under McInnes, then just imagine what he could do with someone like Rodgers on his side.

Of course, there is always the possibility that McInnes might offer Christie a full-time deal, and it might have an appeal to it if Celtic decide to strengthen their attacking options during the summer's transfer window.

But it might be foolish for Christie to turn down a chance of operating under Rodgers, especially if he wants him back.